One of the winners of a major new international peace award on Friday urged global leaders to invest more heavily in aquaculture to address the rapidly growing challenge of hunger in developing countries.
In accepting the first-ever Sunhak Peace Prize, Indian fisheries scientist Dr. M. Vijay Gupta told a prestigious gathering of leaders in Seoul, South Korea, that hunger already affects 800 million people worldwide and that number could rise sharply absent significant improvements in food production in developing countries.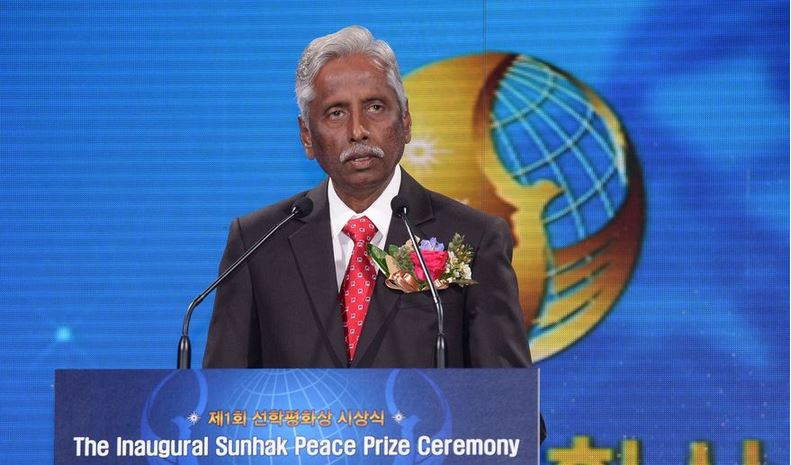 Mr. Gupta was selected as one of two winners of the 2015 prize, worth $1 million, for creating an aquaculture system tailored to poor, rural populations in Asia, Africa and the Pacific. His methods have allowed communities to feed themselves and empower women by teaching them how to raise and harvest the fish.
He told the award ceremony audience that expanding the aquaculture movement — known in global circles as the Blue Revolution — was essential to meeting the future food demands of the world.
The second winner of the prize, Anote Tong, is the president of the tiny Pacific island of Kiribati, which scientists predict one day may be erased by rising ocean waters blamed on climate change.
According to remarks prepared for his acceptance speech, Mr. Tong urged global leaders to take more rapid action to address climate change.
Sunhak Peace Prize Committee Chairman Dr. Il Sik Hong told the audience that unlike other prizes that celebrate past accomplishment the new award was designed to lean into the future, seeking to highlight solutions for the world's most pressing challenges.
"It does not confine the concept of peace to just the present or the past, but extends it well into the future to open new horizons of peace," he said. "This also serves to awaken our moral responsibility as to the reason why we need to prepare peace for future generations."