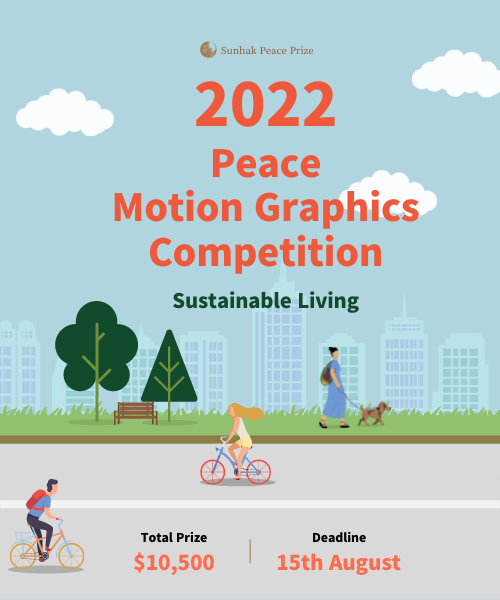 2022 Peace Motion Graphics Competition – Call for Entries
The Sunhak Peace Prize has held an international "Motion Graphics Competition" to raise global citizens' awareness of the global peace agenda since 2020.

In 2022, we are holding a motion graphics contest under the theme of 'Sustainable Living', with the aim of overcoming the climate emergency through daily life practices. After researching for the theme in depth, showcase your artistic and technical skills to create a motion graphics video to share with the world what you have discovered. The award-winning work will be shared widely and spread online to people around the world. In this way, we will promote making sustainable choices in our lifestyles.
⭘ Topic
'Sustainable Living'(SDG 12)
<Keynote>
– 'Sustainable Living' is essential for the pursuit of sustainable happiness for all mankind.
– All mankind must join the transition to 'sustainable living' to prevent climate change caused by the vicious cycle of 'mass production - mass consumption - mass disposal'.
<Example of Details>
– What is Sustainable Living?
– Reducing Carbon Footprints to achieve Net Zero
– Sustainable Food (e.g., Zero waste, plant-based diet)
– Sustainable Fashion (e.g., Slow fashion, wearing eco-friendly clothes)
– Sustainable Transport (e.g., Ways to overcome car-dependent city traffic)
<Core Concept>
– Sustainable Development: "Develpment that meets the needs of the present without compromising the ability of future generations to meet their own needs." WCED, (1987), Our Common Future, Oxford University Press.
– Sustainable Consumption: "The use of goods and services that respond to basic needs and bring a better quality of life, while minimising the use of natural resources, toxic materials and emissions of waste and pollutants over the life cycle, so as not to jeopardise the needs of future generations." Oslo Symposium on Sustainable Production and Consumption, 1994
⭘ Period and schedule
– Application and Submission period: 15/07/2022 ~ 15/08/2022
– Offline Judging: August
– Online Judging: September
– Announcement of winners: September
⭘ Eligibility for application
– Anyone from all over the world
– As an individual or team
– For teams, submit under the team leader's name
– Quantity: One individual or teamwork (Unpublished work)
⭘ Competition field
– 2D/3D motion graphics video in less than 1 minute
⭘ How to apply
– Submit the Google Form application (Go to form)
– Submit the signed Terms and Conditions form and your original video file to sunhakcompetition@gmail.com
⭘ Exhibit standard
– Workpiece extension: .mp4, .wmv, .mov, .mpeg, .avi
– Aspect ratio: 16:9
– External sources such as modeling and BGM can be used (Make sure to reveal the sources when sending mail)
⭘ Judging Criteria
– Offline Judging (70%): Creativity and artistic expression, Depth of research, Appropriate depiction of research, Delivery of content to viewers, Overall quality and professionalism
– Online Judging (30%): Response on Sunhak Peace Prize SNS channel (Likes, Views)
⭘ Awards
10 people, total prize money $10,500
– Grand Prize (1 entry): $3,000
– Special Award (3 entries): $1,500
– Runner-up (6 entries): $500
⭘ Competition details and notes
– The amount of cash award paid out will exclude 4.4% for related taxes in South Korea from the award amount noted above.
– Submissions will only be accepted via email and will not be accepted after the submission deadline.
– Individual and team submissions are allowed. However, only one entry per individual, either as an individual or as part of a team, is allowed. When entering as a team, a team leader must be designated and will be the point of contact for communications.
– Submissions must not have been submitted to other competitions previously.
– Do not include your signature or any other personal identification symbol in your work.
– All work must be in English.
– Your submission may not be considered for the Competition if it does not satisfy all submission requirements and the terms and conditions laid out. If the content is determined to be unrelated to the theme, it may be disqualified.
– Entrants guarantee that the submitted work is original and that they are the holders of the copyright and have the right to submit the work to the Competition. By entering the Competition, entrants grant Sunhak Peace Prize Foundation a royalty-free, perpetual, worldwide, non-exclusive license to use, reproduce, publish, distribute, display, creative, derivative works in whole or in part, including for promotional or marketing purposes. Entrants are liable for any issues arising from the use of images or videos of buildings or people in the submitted work.
⭘ Contact
– Official email of the Sunhak Peace Prize Contest: sunhakcompetition@gmail.com